Timber Lodge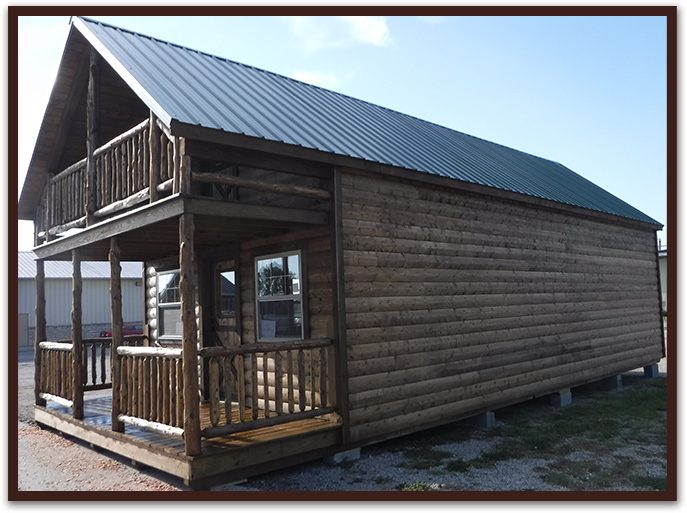 Timber Lodge
Do you need a cute little cabin for that camping spot in the woods?  Would you like a hunting lodge where you can store your gear or warm up on those cold days?  Our Timber Lodge may be the perfect option for you!
Timber Lodge has the main entrance, two windows, and a 6' porch across the end of the cabin.  Add a rustic cedar railing to complete the picturesque front view of your snug little cabin. 
We build the Timber Lodge in a variety of sizes to accommodate all budgets and needs.  Our smallest standard cabins start at 14' x 24' and go up to 16' x 44'. 
The Timber Lodge includes a 16' loft with stairs inside.  We also construct the Double Deck Timber Lodge.  The Double Deck has a door going from the loft onto a 6' wide balcony.  What better place to meditate and rejuvenate than this private little spot up and away from the hustle and bustle?  Take your early morning cup of coffee out here and enjoy the blessings of nature! 
Schwartz's Cabins gives you options that pay attention to detail.  Would you like a screen door on your cabin to allow for air flow without permitting mosquitoes free entry?  Would you like porch steps?  Is your cabin positioned at a place where a walkway would make it more accessible?  Gutters can keep the rain from pouring down your back when you need to make a dash for the car during a rainstorm. 
Are you interested in an interior door with a track?  Would you like to consider laminated flooring?  We also offer two types of insulation to keep your cabin cozy in the winter time.  Our crew will be happy to discuss the pros and cons of these various options with you, building a quality log cabin that will meet your needs and look beautiful for years to come! 
If you have been looking for a well-built log cabin home for sale, you have come to the right place.  Give us a call today at 606-301-3095.
Standard Features on the Timber Lodge
• 4 - windows
• 1 - exterior 35" door with glass
• 9/12 pitch roof
• Can be customized
Sizes
14' x 24'
14' x 30'
14' x 32'
14' x 36'
14' x 40'
16' x 40'
16' x 44'
Cabin Upgrade Options
12" x 40" window
30" x 30" window
36" x 40" window
46" x 46" window
A-Frame dormer with window
Shed Dormer with window
Exterior door with glass
Exterior door without glass
Screen door installed
Screen door not installed
Extra porch with roof - no railing
Rustic cedar railing
4' porch steps or extra interior steps
Finished loft and steps - no loft
30" x 12' walkway with railing
8' x 10' mudroom - 80 sq. ft.
8' x 4' mudroom - 32 sq. ft.
Cedar railing 14' wide
Cedar Railing 16' wide
Cedar Railing 28' wide
Laminated flooring
R-13 fiberglass insulation
Spray-on foam insulation
Beataboard on exterior walls and ceiling varnished
Kitchen cabinets - upper & lower with countertops - not varnished
35" x 74" interior door with track
Interior of cabin varnished - 1 coat
2" x 2" railing
16" o.c. 2" x 4" walls and rafters
16" o.c. 2" x 6" walls and rafters
Board & Batten siding
Gutters