Frontier Cabin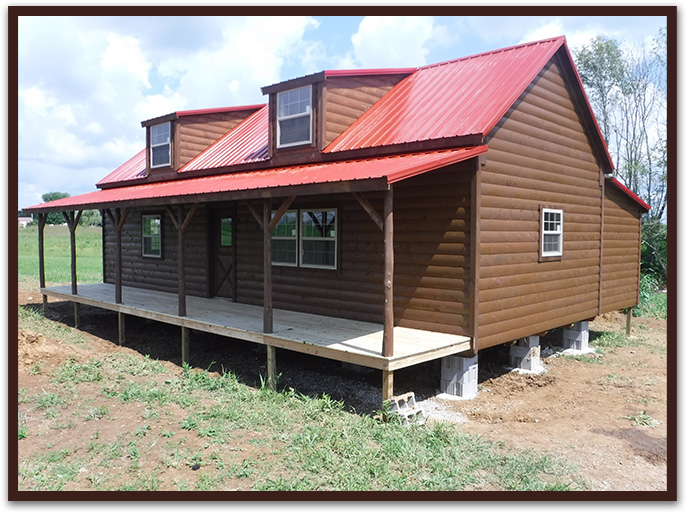 Frontier Cabin
Do you need a cabin for your property up in the mountains?  Schwartz's Cabins would love to help you construct the cabin of your dreams!  We will work with you to custom build the perfect cabin for your specific location and preferences.
Our Frontier Cabin's defining feature is the long 6' wide porch across the front.  This porch creates a homey appearance, a delightful spot for a few wooden rocking chairs.  Ask for our rustic cedar porch railings and log siding to complete the cabin's old-fashioned look. 
The Frontier Cabin includes a 16' loft with inside stairs for easy access.  The loft utilizes cabin space efficiently, giving room for more bedrooms or extra storage space.  Or, the loft could be the children's play area, keeping their toys out from underfoot of the adults visiting in the living room downstairs. 
See the pictures in the photo gallery for an example of the beautiful wood interior of our cabins.  If you would like, we varnish the inside of the cabin for you.  We also give the option of installing a kitchen with upper and lower cabinets as well as countertops. 
Another option available is a mudroom added onto the back of the cabin.  This gives a spot for storing boots and coats, keeping your vacation experience more organized.  We can build a small porch at the entrance to the mudroom.   
See below for a complete list of cabin upgrade options.  Let your imagination run on the possibilities for your dream cabin.  Schwartz's Cabins is here to serve you with the skill and quality that you've been looking for!  Give us a call today at 606.763.9252.
Standard Features of the Frontier Cabin
6' porch
16' loft
4 - windows
1 - exterior 35" door with glass
9/12 pitch roof
Can be customized
Sizes
14' x 24'
14' x 30'
14' x 32'
14' x 36'
14' x 40'
16' x 40'
16' x 44'
Cabin Upgrade Options
12" x 40" window
30" x 30" window
36" x 40" window
46" x 46" window
A-Frame dormer with window
Shed Dormer with window
Exterior door with glass
Exterior door without glass
Screen door installed
Screen door not installed
Extra porch with roof - no railing
Rustic cedar railing
4' porch steps or extra interior steps
Finished loft and steps - no loft
30" x 12' walkway with railing
8' x 10' mudroom - 80 sq ft
8' x 4' mudroom - 32 sq ft
Cedar railing 14' wide
Cedar Railing 16' wide
Cedar Railing 28' wide
Laminated flooring
R-13 fiberglass insulation
Spray-on foam insulation
Beataboard on exterior walls and ceiling varnished
Kitchen cabinets - upper & lower with countertops - not varnished
35" x 74" interior door with track
Interior of cabin varnished - 1 coat
2" x 2" railing
16" o.c. 2" x 4" walls and rafters
16" o.c. 2" x 6" walls and rafters
Board & Batten siding
Gutters